Bridal hairstyles require professional bridal hairstylists. There are a few things you need to look into while looking for a bridal hairstylist. Professionalism is one of the big factors to look for. You need someone who is genuinely interested to make you look like a queen. Here are the steps to finding a professional bridal hairstylist.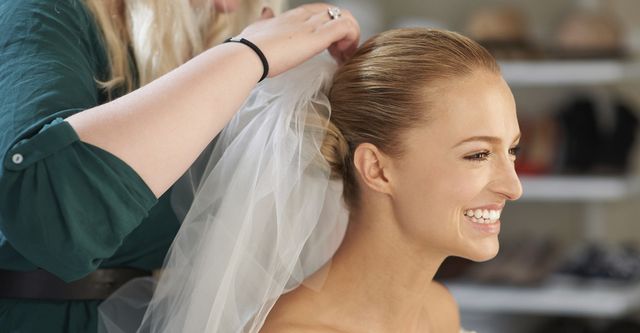 1. Ask for reference
There must be some of your friends who already did a wedding or family members. If you liked their hair on their wedding then it wouldn't hurt to ask about who tended to them. If you don't know anyone who did a wedding, keep on reading.
2. Look online 
The easiest way to find businesses these days is to look them up online. Checkout bridal agencies online and you will be sure to find something of your liking.
3. Ask questions
You have probably found a couple of stylists at this point. Ask them relevant questions to determine the best one for you.
4. Ask for portfolio
Do they have something to show their credibility? Pictures of their previous clients? Ask them for something that makes them trustworthy.
5. License 
Make sure they are properly licensed and are fit for the job. 
6. Reviews
Read their online reviews. Check out what other clients are saying about them. Awesome reviews means that they offer awesome services.
7. Talk to different stylists
Don't just pick the first stylist that you find. Find different stylists and interview them. This way you will get to know the one that will best suit you.
8. Experience
Go for bridal hairstylists with a lot of experience. Chances are, they will do much better than those who are new in the industry.
9. Trial and experiment
This is a very important step. It is best to try and experiment with different hairstyles to determine which one will best suit you. Do this a month or two before the actual wedding to avoid any inconvenience.